A significant 303-mile natural gas pipeline project between West Virginia and Virginia will have its approval expedited under a clause in the eagerly awaited debt ceiling deal that House Republicans and President Biden unveiled on Sunday.
West Virginia legislators, who have long hailed the project's anticipated economic advantages, celebrated the unexpected carveout that approved the billion-dollar Mountain Valley Pipeline, which is 94% complete but has been stymied in a protracted regulatory process for years. According to projections, the pipeline will provide 2,500 construction jobs, $40 million in new tax income for West Virginia, $10 million for Virginia, and up to $250 million in royalties for landowners in West Virginia.
Sen. Shelley Moore Capito, R-W.Va., the ranking member of the Environment and Public Works Committee, expressed her excitement that the Mountain Valley Pipeline was included in the debt ceiling package that prevents default. "I am happy that the Mountain Valley Pipeline is included in the debt ceiling agreement that prevents default after working with Speaker McCarthy and emphasising what it would mean for American jobs and domestic energy production." she said.
A school district may forbid a graduate from donning sashes with the flags of Mexico and the United States
"Despite numerous setbacks, we pushed to get this crucial natural gas pipeline operational, and its inclusion in this deal is a big victory for West Virginia's future." she stated.
House Speaker Kevin McCarthy, R-Calif., was praised by Sen. Joe Manchin, D-W.Va., the chair of the Energy and Natural Resources Committee, for making sure the project was included in the agreement. Manchin tried to expedite the pipeline last year, but he was unsuccessful in getting enough backing for both his budget deal in September and his defence funding bill in December.
Rep. Rosendale, a Republican, would vote against the $4 trillion debt ceiling agreement because it is a "insult to the American people."
Manchin stated on Sunday, "Last summer, I introduced legislation to finish the Mountain Valley Pipeline. "I am happy that Speaker McCarthy and his leadership team recognise the great value in completing the MVP to boost domestic energy production and lower costs throughout America, particularly in West Virginia."
I am proud to have fought for this important project and to have achieved the bipartisan support required to see it through to completion, he continued.
A total of 2 billion cubic feet of natural gas per day are expected to be transported via the pipeline from West Virginia to consumers in the Mid- and South Atlantic.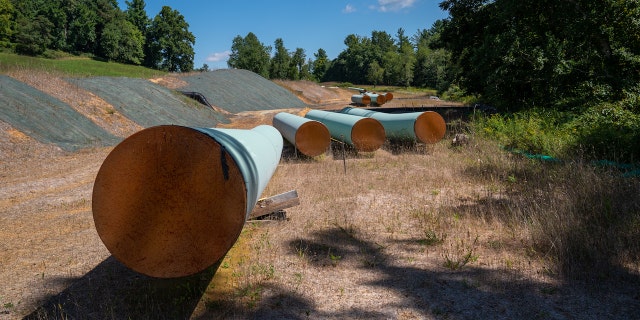 However, according to both organisations, no pipeline building was permitted in the forested area until all pending permissions were granted. The U.S. Army Corps of Engineers still needs to approve the project, a U.S. Fish and Wildlife Service permit is now being contested in court, and environmental groups have pledged to bring additional legal action against the project.
Voted for impeachment by the Texas House on Republican Attorney General Ken Paxton.
Rep. Carol Miller, a Republican from West Virginia, said, "Since entering Congress, I've worked tirelessly with my West Virginia colleagues to finish the Mountain Valley Pipeline." Finally working together to complete the Mountain Valley Pipeline, which will provide employment, reduce energy costs, and save the environment. This bill is a gain for all Americans that crosses party lines.
The budget agreement, which must now be approved by the House and Senate in order to prevent a US default, is likely to encounter opposition from Democrats and environmental organisations who opposed the Mountain Valley Pipeline.